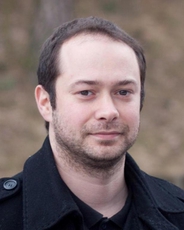 Stefan Soutschek M. Sc.
Alumnus of the Pattern Recognition Lab of the Friedrich-Alexander-Universität Erlangen-Nürnberg
InformARTik: Technology, Art and Communication
2010 (3 Publications, Talks and Patents)
Articles in Conference Proceedings
Proceedings of the Pervasive Health 2010 (Pervasive Health 2010), München, Germany, 22.-25.03.2010, pp. -, 2010
(BiBTeX, Who cited this?)
Talks
Bright Eyes - Ich sehe das, was du nicht siehst!
(CeBIT, Gemeinschaftsstand Bayern Innovativ) in Hannover, Germany (02.03. -06.03.)
Measurement of Angles in Time-of-Flight Data for the Automatic Supervision of Training Exercises
(Pervasive Health 2010) in München, Germany (24.3)
2009 (11 Publications, Talks and Patents)
Journal Articles
i-com - Zeitschrift für interaktive und kooperative Medien, vol. 1 / 2009, no. 8, pp. 19-23, 2009
(BiBTeX, Who cited this?)
Articles in Conference Proceedings
Proceedings of the 5th Russian-Bavarian Conference on Biomedical Engineering (Russian-Bavarian Conference on Biomedical Engineering), München, Germany, 01.-04.7.2009, pp. n.a., 2009
(BiBTeX, Who cited this?)
Proceedings of the 5th Russian Bavarian Conference on Bio-Medical Engineering (RBC) (Russian Bavarian Conference on Bio-Medical Engineering (RBC)), München, 01.-04.07.2009, pp. 157-160, 2009, ISBN 978-3-00-029049-7
(BiBTeX, Who cited this?)
Proceedings of the 5th Russian-Bavarian Conference on Biomedical Engineering (5th Russian-Bavarian Conference on Biomedical Engineering), München, Germany, 01.-04.07.2009, pp. -, 2009
(BiBTeX, Who cited this?)
Proceedings of the ArtsIT 2009 (ArtsIT 2009 - International Conference on Arts & Technology), Yi-Lan, Taiwan, 24. - 25.09.2009, pp. 33-39, 2009, ISBN 978-3-642-11576-9
(BiBTeX, Who cited this?)
Proceedings of the 5th Russian-Bavarian Conference on Biomedical Engineering (Russian Bavarian Conference on Bio-Medical Engineering Communication), München, Germany, 01.-04.07.2009, pp. -, 2009
(BiBTeX, Who cited this?)
Tagungsband zum 2. deutschen AAL-Kongress (2. Deutscher AAL (Ambient Assisted Living)-Kongress Berlin) (2. deutschen AAL-Kongress (2. Deutscher AAL (Ambient Assisted Living)-Kongress Berlin)), Berlin, 27.-28.1.2009, pp. n.a., 2009, ISBN 978-3-8007-3138-1
(BiBTeX, Who cited this?)
Talks
FitForAge - Zukunftsorientierte Produkte und Dienstleistungen für die demographischen Herausforderungen
at BPI e.V. (Konferenz der Möglichkeiten (Leben im Alter - gemeinsam Zukunft gestalten)) in Berlin (10.06.)
Immersive Painting
(ArtsIT 2009 - International Conference on Arts & Technology) in Yi-Lan, Taiwan (24.09)
InformARTik: Technology, Art and Communication
at AAL Forum 2009 (Young researchers and PhD workshop) in Vienna, Austria (29.9)
Validierter SKT als Multimodale Telemedizinische Applikation
at Congress Center (bcc) (2. Deutscher AAL-Kongress (VDE)) in Berlin (28.01.)
2008 (8 Publications, Talks and Patents)
Journal Articles
Articles in Conference Proceedings
2008 IEEE Computer Society Conference on Computer Vision and Pattern Recognition, Anchorage, AK, 23-28.6.2008, pp. no pagination, 2008, ISBN 978-1-4244-2340-8
(BiBTeX, Who cited this?)
3-D tele-medical speech therapy using Time-of-Flight technology
4th European Congress for Medical and Biomedical Engineering (eMBEC 2008), Antwerpen, 23.11-27.11, pp. 194, 2008
(BiBTeX, Who cited this?)
Workshop Proceedings der Tagungen Mensch&Computer 2008, DeLFI 2008 und Cognitive Design 2008 (Mensch&Computer 2008), Universität zu Lübeck, Hansestadt Lübeck, Germany, Universität zu Lübeck, Hansestadt Lübeck, Germany, pp. 79-81, 2008, ISBN 978-3-8325-2007-6
(BiBTeX, Who cited this?)
Proceedings of the 8th International Conference on Automatic Face and Gesture Recognition (FG 2008 - 8th International Conference on Automatic Face and Gesture Recognition), De Rode Hoed, Amsterdam, The Netherlands, De Rode Hoed, Amsterdam, The Netherlands, pp. Tracking-ID 335, 2008, ISBN 978-1-4244-2154-1
(BiBTeX, Who cited this?)
Talks
3-D Gesture-Based Scene Navigation in Medical Imaging Applications Using Time-Of-Flight Cameras
at CVPR 2008 - Workshop on Time of Flight-based Computer Vision (Konferenz) in Anchorage, AK (USA) (28.06.)
Der Forschungsverbund Fit4Age
(Schnupperuni) in Erlangen (03.11.)
Robust Real-Time Gesture-Based Navigation
at Center of Complex Systems and Visualizations (CeVis) (Gastvortrag Oberseminar CeVis) in Bremen (13.11.)