Insufficient physical activity is the 4th leading risk factor for mortality. Methods for assessing the individual daily life activity are of major interest in order to monitor the health status and to provide mandatory feedback about the individual quality of life. The assessment of daily life activities with self-reports induces problems like reliability, validity, and sensitivity. In recent years, small and light-weight wearable sensors provide a reliable and objective method for the assessment of daily life activities.
The picture shows the sensor setup. With this sensor setup, we measured daily life activities. After the feature extraction, we can classify the level and type of activity.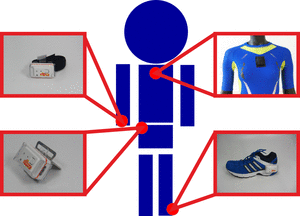 Please cite this publication when using DaLiAc:
Leutheuser, H., Schuldhaus, D., Eskofier, B. M. (2013) Hierarchical, multi-sensor based classification of daily life activities: comparison with state-of-the-art algorithms using a benchmark dataset, PLoS ONE, 8(10), e75196.
A more detailed description of the DaLiAc (Daily Life Activities) database can be found on

http://www.activitynet.org