SlideRunner is a tool for massive cell annotations in whole slide images.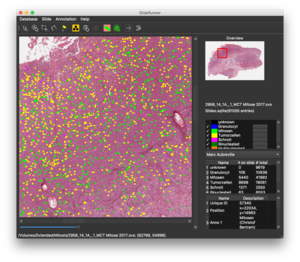 It has been created by

Marc Aubreville in close cooperation between the Pattern Recognition Lab, Friedrich-Alexander-Universität Erlangen-Nürnberg and the Institute of Veterinary Pathology, Freie Universität Berlin.
SlideRunner is licensed under the GNU General Public License 3.0 and available on github.com (

link).
If you use the software for research purposes, please cite our paper:
M. Aubreville, C. Bertram, R. Klopfleisch and A. Maier (2018): SlideRunner - A Tool for Massive Cell Annotations in Whole Slide Images, In: Bildverarbeitung für die Medizin 2018,

arXiv:1802.02347

pdf (preprint)